"THE PEOPLE WHO ARE CRAZY ENOUGH TO THINK THEY CAN CHANGE THE WORLD ARE THE ONES WHO DO."
With these words, Apple Inc., and its leader, Steve Jobs, catalyzed a movement. Whenever Jobs took the stage to talk about new Apple products, the whole world seemed to stop and listen. That's because Jobs was offering a vision of the future. He wanted you to feel what the world might someday be like, and trust him to take you there.
As a leader, you have the same potential to not only anticipate the future and invent creative initiatives, but to also inspire those around you to support and execute your vision.
Nancy Duarte is currently my favorite author. Her book, Resonate, sits on my desk weighed down by too many clips and post-it notes of highlighted reference points I want to remember. Duarte speaks to the power of presentation, namely how we express our ideas in order to inspire change in the world.
In her latest book, Illuminate, Duarte and communications expert Patti Sanchez equip you with the same communication tools that great leaders like Jobs, Howard Schultz, and Dr. Martin Luther King Jr. used to move people. Duarte and Sanchez lay out a plan to help you lead people through the five stages of transformation using speeches, stories, ceremonies, and symbols.
To envision the future is one thing, getting others to go there with you is another. By harnessing the power of persuasive communication Duarte suggests how you, too, can turn your idea into a movement by breaking down a movement into 5 key areas.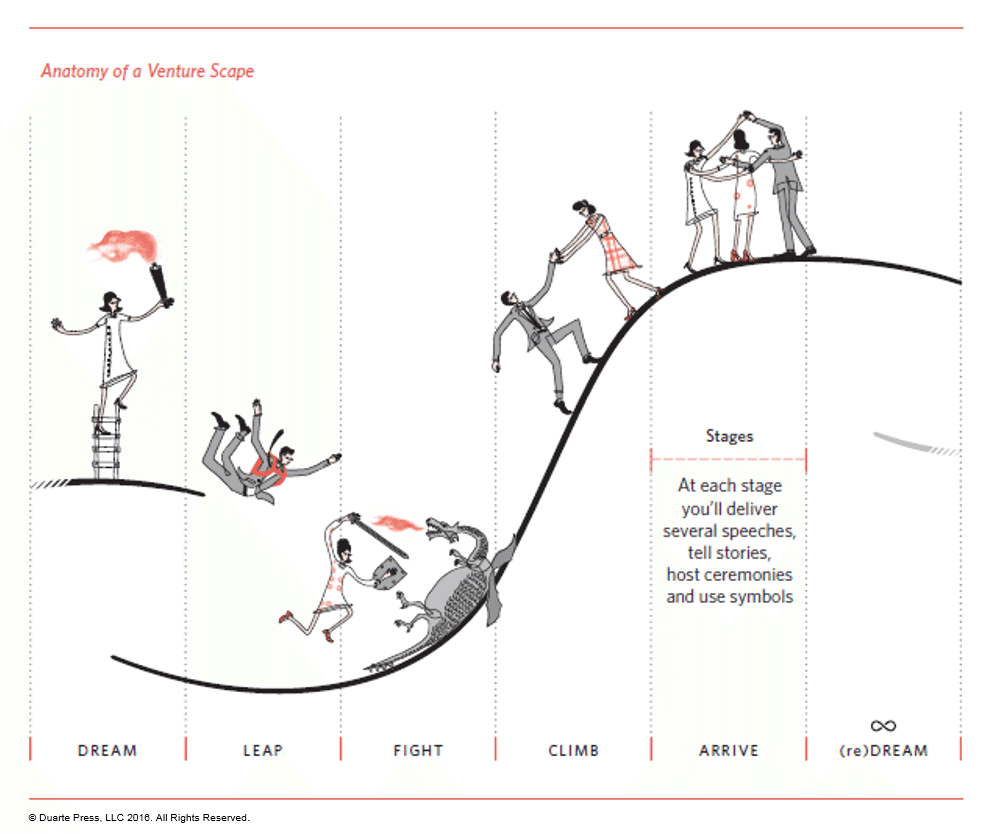 Stage 1: THE TORCH BEARER'S DREAM
The very first stage is to dream. If you have an idea that you believe is worth sharing, you'll want to take a moment to think about how to communicate your vision to your team. Understanding the next stages, preparing for the highs and lows, will give you a fighting chance to stick through to the victorious possibilities.


Stage 2: LEAP
This stage is what I call the "infatuation stage." We hear a great idea and we leap – we're all in, ready for the victory. We have energy and sustenance to get just far enough from home that there is no turning back… which heads us right smack dab into the hard part. Take a deep breath and continue on… The leader who is able to acknowledge this stage is prepared to carry the floating leap knowing what lays ahead.


Stage 3: Fight
And, the challenge begins. Your team bought in to your idea. They leaped with eager anticipation… and then reality hits. It's never as easy as we thought. There are always unforeseen obstacles. If the leader isn't ready for this stage, we can lose everything, including the respect of our team. They are looking to you now more than ever to take care of them and reassure them this wasn't all for naught… Keep going. Talk to your team with just the right amount of humility, respect, honesty, and courageous inspiration to keep the flame of the dream ignited.


Stage 4: Climb
Duarte is clear that these stages aren't absolute and chronological. There is a dance here, and various stages may take two steps forward and one step back at any time they choose. The fight stage could lead to the climb stage, could then revert to the fight stage. The important thing to know about the climb stage is that it is still HARD. You've got your team through the fight stage… they have faced reality. They have accepted what lies ahead if this dream is to become real. And by accepting, they now must take one step at a time and… climb. Your job as leader is to stand with them, be the example, nurture them with what they need to get through. Take responsibility for what you started, and always be the first one in and the last one to leave.


Stage 5: Arrive
If you've paid attention, a good leader will know what arriving has cost your team. This was not as easy as you originally thought… and you need to stay strong through this stage and check on the status of each and every member of your team. How are they? What can you do at this crucial moment to surpass their expectations and celebrate appropriately? Remember, you couldn't have gotten here without your team. This is not your moment… it's theirs. Take care of your team here, and you'll have them as your warriors for life.


Stage 6: Re-Dream
Yep. That's right. Just when you've gotten everyone all settled into the reality of your first vision that started this journey, you know you can't settle. You can't get lazy. You can't stop dreaming. What's next? What vision takes your team to the next adventure? Celebrate how far you've come, have a celebratory feast, gather your preparations for battle, and begin again…
A Leader's Toolkit
At each stage, a leader has important tools at his or her disposal to appropriately communicate with the team – collectively or individually. It's important to be able to properly assess the situation at hand to know which tool is appropriate for the task.




Overall, I would still say that Resonate is my favorite book of Duarte's to date, but Illuminate proved incredibly insightful, and I would absolutely recommend it for anyone wanting to dream and lead a team to success.